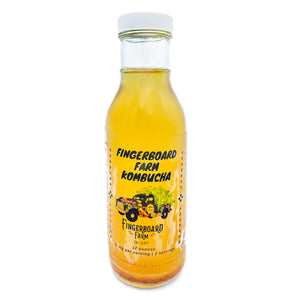 Try our delicious Fingerboard Farm Kombucha!

This refreshing kombucha is brewed with our signature Fingerboard FarmTEAque Tea. Our Fingerboard Farm Kombucha contains  (two servings per bottle!) Booch, 
We do not ship Fingerboard Farm Kombucha, we do offer porch pickup!
What is in our Fingerboard FarmTEAque?
Ingredients: Hemp Leaves, Tulsi Leaves, Lemongrass, Ginger, Turmeric, Licorice, and Elderberry. 
Turmeric: Curcumin is the main active ingredient in turmeric, it has powerful anti-inflammatory effects and is a very strong antioxidant.
Ginger: Highly potent anti-antioxidant and anti-inflammatory agent;  energizer and stimulator; supports the digestive system.
Lemongrass: Promotes healthy digestion; cleanses and detoxifies the body and contains anti-inflammatory properties. 
Licorice: An anti-inflammatory agent, may relieve bloating and indigestion; enhances the health benefits of the herbs in this tea formula. 
Delicious and refreshing!
Wonderful! Smooth, lightly effervescent, refreshing and calming. Love it year round!