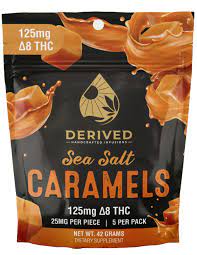 Award-Winning Flavor, Award-Winning Effects


These handcrafted Delta 8 THC caramels took home 1st place at the prestigious 2022 High Times Hemp Cup with their rich, buttery flavor and potent, anxiety-relieving effects.

Crafted to Perfection

The caramels start with an artisanal recipe using only the finest ingredients - real butter, cream, vanilla, and caramelized sugar. Once the caramel reaches peak flavor and color, it is gently infused with 125mg of hemp-Delta 8 THC for a mild, calming buzz.

An Edible Experience Like No Other

The caramels provide a smooth, long-lasting high that eases anxiety and enhances feelings of well-being. The delicious caramel flavors complement the cannabis undertones for an edible experience you'll savor.

High-Quality & Lab Tested

All products are made from USA-grown hemp and third-party lab tested for purity and potency. You can enjoy these award-winning caramels with complete confidence and peace of mind.

Treat Yourself to Award-Winning Flavor & Effects

Try our D8 caramels today and see why they took top honors at the Hemp Cup!
---
Ingredients: Granulated Sugar, Corn Syrup, Unsalted Butter, Heavy Cream, Vanilla Extract, Kosher Salt, Hemp Derived Delta 8 THC.
Servings Per Package: 1
Serving Size: 1/2 caramel
Directions: Use twice daily, or as needed.

Wait 2 hours for full effect before eating additional caramel.

Storage: Store at 20 - 25 °C (68 - 77°F)