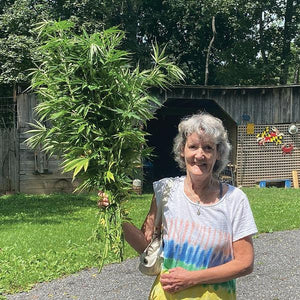 We are offering 30-minute PRIVATE consultations to deepen your understanding of medicinal cannabis use. During the consultation we discuss your relevant medical history including cannabis use, current medications and possible interactions with cannabis, and how varied cannabis components like CBD, CBG, and terpenes may enhance the medical benefits you experience.
Patti's specialties include: pediatric seizure and autism disorders, digestive issues in adults, and seniors with dementia disorders. She has access to the latest research for medical considerations with any conditions and is connected with many other medical cannabis experts for further consultation as needed in clients with the most complex needs.
Meet Patti!
Patti Ormistorn, CRNP, MS as Clinical Director Fingerboard Farm. Patti shares our vision of providing access to and educating others about the benefits of cannabinoids, specifically CBD and CBG to promote overall wellness and lessen the effects of many medical disorders. In fact, we met Patti while she was visiting the farm in search of quality hemp and hemp-derived products. She became a regular visitor and soon began volunteering to learn all aspects of hemp farming, drying, extracting, and formulating.
After graduating in 2022 with a Masters degree in Medical Cannabis Science and Therapeutics from the University of Maryland School of Pharmacy she became a Clinical Director registered with the MD Cannabis Administration. Clinical Directors are physicians or advanced practice providers with substantial training and experience in the medical use of cannabis.
Patti and our team look forward to learning more from your personal cannabis journey!
Once you order, you will get an invitation to schedule your consultation. Patty's office hours at our farm are Tuesdays and Thursdays 12-2.