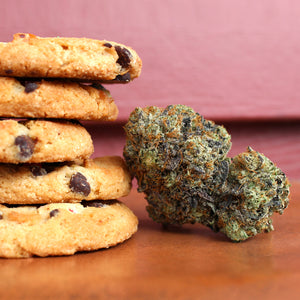 Express yourself with CBD cooking! 

We now offer cannabis "Baking Flower" from our boutique hemp strains.

Available to our Leafly and Curbside PickUp Customers Only!
Do you love making your own CBD edibles? Our baking flower is perfect for your cooking, processing, and extractions needs. ...A little goes a long way! 

Baking Flower Ideas:
Griddle some hemp flower pancakes
Cook a tropical CBD coconut oil stir fry
Make brownies or cookies with CBD-rich butter
Create a CBD-infused olive oil bread dip
Pair your meal with an "herbal" tea
We'd love to see what you're cooking! Tag #FingerboardFarm in your post and we'll share your fabulous food photos! 
cbd cook-off
cbd flower was awesome to used.i was able to make a dish called rasta pasta with sweet plantains and passion punch. plus I took how best overall chef I think it because I used fingerboard A+ flower to cook with
It's the Perfect Blend of Everything Good!
I got a bag of Baking Flower as a gift from my son.
I had no idea what a baking flower was.
I popped open the bag and stuck my nose right in and took a deep haul and smiled right off! This was a great start. This was a wonderful start.
I guess I would say small to medium flower, great mix, easy to use.
I do small-batch artisan EVOO flavored infusions for personal use and with the flowers' own mild-nutty-earthy flavor.....let's just say that the flower definitely complemented the Blood Orange oil.
I didn't have to break any of the flower up, but. I did grind it and found the flower to be nice and sticky but easy to grind.
The overall consistency of the product is very well distributed throughout. What I mean is that I have had flower that wasn't sticky but it was wet. Wet flower doesn't grind well, it just kinda rolls around in my grinder and I have to pick it out.
Baking Flower was just right which tells me that the curing/drying process is working very well.
Now the effectiveness of the product works well for me. It relieves my aches and pains and the whining associated with those aches and pains and then lulled me into a good night's sleep.
The added bonus: The feeling of total calm. Mind and body totally drenched in procrastination. The wonderful feeling you get when you tell yourself that it is okay to stay in your jammies all day( but not couch-lock.....this time)!
What's really cool about this flower is that this is my experience, your's will be different.
You're gonna find that you cannot say anything bad about Baking Flower.
It's the perfect blend of everything good!