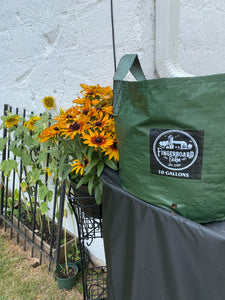 Introducing the Fingerboard Farm Grow Bag – your ultimate companion for cultivating vibrant and healthy cannabis plants.
Specially designed with cannabis-sativa growers in mind, this 10-gallon grow bag is a game-changer for home growers seeking an optimal and sustainable solution.

With an emphasis on proper root growth, the Fingerboard Farm Grow Bag features ample air space to promote root growth, which is crucial for the successful cultivation of cannabis plants. Additionally, the bag boasts excellent drainage, eliminating the risk of waterlogged roots and potential overwatering issues.

Simple to use, just follow the included instructions for optimal results. Begin by watering the soil thoroughly until it's adequately moistened. Once the soil is no longer visually draining any water, it's time to plant your cannabis-sativa seedlings. From there, water as needed, being cautious not to overwater, as this living soil already provides a comprehensive nutrient profile that eliminates the need for additional fertilization.

Take your cannabis-growing experience to new heights with Fingerboard FarmGrow Bag. Invest in the ultimate growing potential for your cannabis plants and see them flourish like never before. Happy growing!
NOTE: This bag does not contain the soil. Our living soil must be purchased in person at our farm in Frederick, MD.