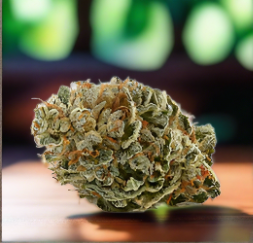 White CBG Calming Hemp Flower - A sativa cannabis strain that works perfectly for both day and nighttime activities. These buds give you a sense of focus, clarity, and calm without putting you to sleep. Users have described White CBG as an 'enlivened calm', Unlike THC, CBG has no psychotropic effects, so it will not give you a high. 
WHAT ARE THE BENEFITS OF CBG AND WHAT DOES IT DO?
While more research is needed to determine the full extent of their benefits, CBD and CBG are both promising compounds with a wide range of potential applications. CBG may offer powerful anti-inflammatory effects without the 'high' that comes with THC or other cannabinoids. This means it can't cause euphoria because CBGA, the acidic form of CBG, doesn't bind to the same neurological targets as its cousin THC does. Instead, CBG is thought to work behind the scenes by reducing chronic stress and inflammation in your body. 
CBG is also more stimulating than other cannabinoids. CBD, on the other hand, becomes sedating enough at high doses that many people use it as a sleep aid.
The complementary benefits of these cannabinoids make them the perfect health couple to improve your day!
Today, researchers are studying CBG for a variety of health benefits. CBG shows promise in the treatment of a variety of conditions and ailments. Some potential uses and potential benefits include:
A Healthier Brain
Better Gut Health
Improved Mood
Better Relaxation
CBG May Reduce Inflammation
Improved muscle control
Healthier Skin
HOW DOES CBG MAKE YOU FEEL?
CBG has no psychotropic effects, so it will not give you a high. CBG products can help balance your body's responses to daily stressors, helping you feel calmer when overwhelmed. It's a popular choice for people who are looking to boost their productivity, energy, and motivation naturally, whether at school, work, or out and about. Some people report feeling more alert and focused after taking CBG, while others say that it helps to reduce anxiety and promote relaxation. It is also thought to have anti-inflammatory and analgesic properties. The complementary nature of CBD and CBG works to make them the perfect health couple to get you through your day seamlessly.
Read more in our blog about CBG.