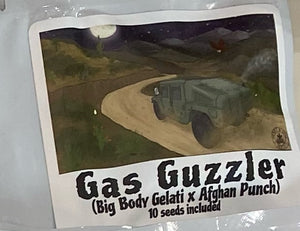 (Big Body Gelati x Afghan Punch)
 Big Body Gelati is an indica/sativa variety from Covert Genetics and can be cultivated indoors and outdoors. Covert Genetics' Big Body Gelati is a THC dominant variety and is/was never available as feminized seeds.
Afghani Hindu Kush Indica THC: 15% - 20%
Afghani Hindu Kush, also known as "Afghani Hindu" or "Afghani Hindu OG," is a 100% pure indica strain grown as a landrace that is native to the Afghanistan and Pakistan border. This high-powered indica is a favorite of breeders and patients alike thanks to its level of potency and classic effects. That being said, the high of Afghani Hindu Kush is not to be underestimated – it comes on with a creeping effect that can cause some patients to overindulge if they're not careful. You'll feel a sudden rush of buzzing physical effects that lead to an almost overwhelming physical sedation. This is heavily relaxing and calming, leaving your body feeling almost like a sinking stone as you settle further and further into the couch. A lifted happiness accompanies this physical high, boosting the spirits without boosting your energy level in the slightest. With these effects and its high 15-20% average THC level, Afghani Hindu Kush is often chosen to treat chronic pain, insomnia, inflammation, chronic stress and cramps or muscle spasms. This bud has a classic sweet and spicy woody hash flavor with a heavily earthy aroma to match. Afghani Hindu Kush buds have super sticky oversized heavy heart-shaped dark olive green nugs with deep undertones, amber hairs and a frosty thick coating of dark amber crystal trichomes.